Apr 7, 2020 2020-04 Accountancy Alumni Business Administration
Jacoby responds to pandemic with Feed the Frontline Chicago
Rachel Jacoby (ACCY, BA '18) says she's drawing on everything she learned at Gies College of Business to launch the Chicago area chapter of Feed the Frontline. The grassroots campaign supplies local healthcare workers with meals purchased from family-owned local restaurants.
"It is easy to become overwhelmed watching the pandemic unfold, get stuck in the paradox of choice, and end up not doing anything," said Jacoby. "I'm driven by the importance of community at times like this. I am approaching this project with resiliency, understanding I'm going to make mistakes but learn from them along the way."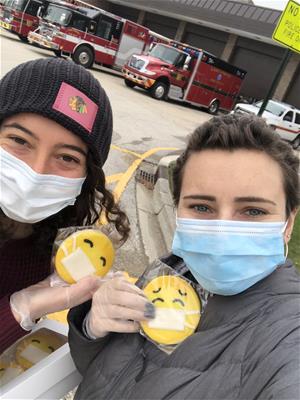 Jacoby said she's found herself reaching back to lessons learned in Business 101 and business ethics along with her accounting and supply chain management coursework. At Gies, students like Jacoby are encouraged to explore new ideas and solve problems. Students don't have to check their passions and causes at the door; they're free to put their big dreams into action.
"Professor Paul Magelli taught entrepreneurship and talked about aiming to do the most good you can. Our model has a double benefit because every dollar helps small businesses and the community's frontline workers – from big area hospitals to small clinics," said Jacoby, a Fulbright scholar, who returned from teaching English in a small Malaysian fishing village in November 2019.
In January 2020, Jacoby moved to Washington, D.C., to become the finance manager for Giffords, the gun violence prevention organization. She's now based in her hometown of Vernon Hills, Ill., while continuing to work full-time remotely. This spring, she partnered with two fellow Fulbright scholars from the area to found Feed the Frontline Chicago.
A typical work day is hardly typical. Jacoby starts early with a quick workout to clear her mind. She then fields phone calls from those looking for meals – a major hospital, nurses representing a family medical center, and local fire stations. At lunchtime she coordinates deliveries. The afternoon is dotted with more calls. She onboards restaurants, like the one that had to lay off its staff after 40 years but is trying to stay operational. Later, she tackles operational items on her to-do list, such as reaching out to the Texas chapter of Feed the Frontline for tips on 501(c)(3) filing. She ends the days collaborating with her team regarding social media strategies, donor outreach, and community engagement.
"My business ethics class at Gies taught me about the importance of a people-centered approach and radical transparency," said Jacoby. "We're making sure everyone involved is fully trained on safe meal preparation, pick-up, and delivery. We've also added a public transaction log to our GoFundMe page, posting how much money was spent on food purchases and to whom the food was donated. Our goal is not to create any more chaos in this already difficult situation."
Jacoby says it also influenced the organization's strategy of prioritizing underserved populations when there's an overwhelming need.
"We want to direct resources to those who are not receiving support – for example, doctors working the night shift or ICU cleaning staff. These people are putting their lives on the line for us every day but don't receive the same recognition. Feed the Frontline Chicago is trying to change that," she said. "It's easy to get caught up in the moment when moving quickly, but my business background helps me stay rational and focused."
While at Gies College of Business, Jacoby was a teaching assistant, research assistant, and member of the Dean's Student Advisory Board. She founded ActGreen, UIUC's first environmental business organization, and was the finance and compliance coordinator for EMILY's List.
Jacoby said her family's story inspired her to start giving back. Her grandfather escaped Nazi Germany, moved to Shanghai, then immigrated to Skokie, Ill. as a teenager. He eventually ran his own small business. Her parents work in business continuity at Discover and as a consultant at Alight Solutions.
"Without community, I would not have had all the opportunities I've had," said Jacoby. "My hope going forward is that we treat each other with more empathy, compassion, and kindness. We're all fighting against the same virus. We're in this together."
Consider donating to the Chicago chapter of Feed the Frontline and sharing their story on social media. To volunteer to deliver or donate meals, contact feedthefrontlineschi@gmail.com.

To donate, visit https://www.gofundme.com/f/feed-the-frontline-chicagoland.