Mar 28, 2020 2020-03 Faculty Finance
Webinar series puts coronavirus business impact in perspective
Gies College of Business Professor Larry DeBrock discussed the impact on micro- and macro-economies created by the coronavirus in the first of a series of webinars designed to help businesses navigate these uncertain times. DeBrock is Dean Emeritus, Gies College of Business and Professor of Finance and Professor of Economics at the University of Illinois at Urbana-Champaign.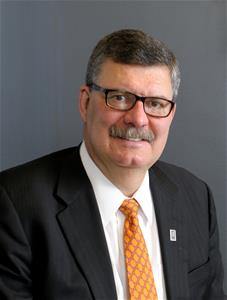 "Our innovative online programs have enabled us to share the expertise of our faculty across the globe, and with the spread of COVID-19 there is no better time for us to put those capabilities into action," said Jeffrey R. Brown, Josef & Margot Lakonishok Professor of Business and Dean of Gies College of Business.
"The Economic Impact of the Coronavirus" is an overview of current challenges that exist domestically and abroad. DeBrock's insights put the global healthcare crisis, the drop in oil prices, and the looming recession into perspective. Video of the webinar is available here.
"The pace of what's happening is staggering. The economic problems that we're having right now are not caused solely by the coronavirus. It's taken what could be a regular down cycle and amped it up on mega-steroids. General weakness in the economy, the drop in oil prices, and the coronavirus could all contribute to a recession," said DeBrock.
His point of view on today's hot topics include:

Coronavirus shutting down our economy: "The Great Recession was driven by financial seize up … In this case, it's different. What's happened with the coronavirus is essentially we as a government are shutting down our own economy."
Suppression versus mitigation: "Suppression is the idea we have to beat the virus before we can get out of this [expected] recession. If we can't beat this virus, this recession is just going to get worse. Mitigation says you should direct your attention at high risk people, and other people should go about their business because the cost to the economy is much too large … Most countries have adopted suppression. Some countries tried mitigation and switched to suppression. Some countries are still working with mitigation."
Monetary policy: Fed makes strong moves: "The Fed has dropped the interest rates and that's the type of monetary policy that should help people get their hands on cash. Not just people, but corporations. That's going to help make sure the financial side doesn't seize up."
Fiscal policy: Is $2T big enough? "Two trillion is big … there are already economists saying this is not enough. We are in a time of a great national emergency, and we may need for a much larger fiscal policy response.."
Is there any upside? "I do believe that many businesses are going to discover that in fact the people working online are just as productive as they were when they came to their cubicles … I think you might see not a small shift, but a rather significant shift, of having people do more telecommuting."
General Weakness in Economy: "Are we in a recession? The answer is technically 'no' … the government generally uses two consecutive down quarters. The data seems to indicate we're having our share of problems. In one week, the same unemployment as what we saw at the peak of The Great Recession [was reported] with just 15 states."
On Oil Prices: US crude oil has posted its largest decline in nearly three decades. "The real question is can low oil prices slow the economy? In November of 2019, for the first time in 70 years, the US became a net oil exporter. This oil price drop could translate into three tenths of 1% in GDP in this quarter."
Over his 40-plus years at Illinois, Professor DeBrock's students have noted his gift for making complex economic concepts both compelling and understandable, and he has won many awards for teaching at the undergraduate and graduate levels. His research interests lie in the area of applied microeconomics and focuses on topics in industrial organization, regulatory issues, and labor economics. He earned his PhD from Cornell.