Jan 30, 2020 2020-01 Accountancy Student
Gies' Kessler encouraging young girls to be "Crowned with Confidence"
To the casual observer, the world of pageants and beauty queens is all about superficial characteristics that only go skin-deep; Gies College of Business freshman Kelsi Kessler is quick to dispel that myth. In fact, she's living proof that it's what's on the inside that matters most.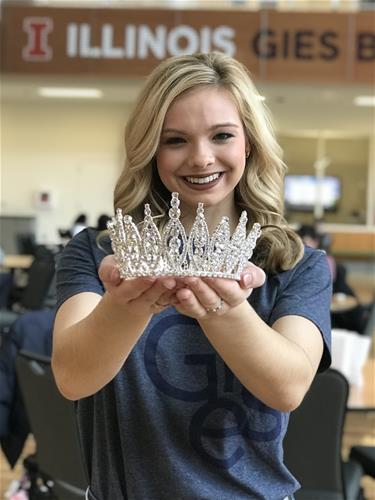 Halfway through her freshman year at Gies, Kessler was crowned Miss Illinois County Fair Queen. The native of Carmi, Illinois – which is three hours south of Champaign and just 30 minutes west of Evansville, Indiana – never imagined she'd win a statewide pageant competing against other county fair queens in Illinois. But on January 19, it happened, and now she's bringing her crown and all the responsibility that comes with it, back to Gies.
"It's really important for people to remember that pageants aren't all about pretty dresses," said Kessler, who plans to major in accounting at Gies. "It's about who's wearing the dress. The interview and speech portion were 65% of our score; so it's not about how you look, it's about how you carry yourself."
Kessler takes that to heart, and she's putting it into action. Her platform is called "Crowned with Confidence," and she delivers her message through a YouTube channel that encourages young girls to be confident in themselves. The video series, which started in the fall, includes episodes on topics like making new friends, handling rejection, and being confident in school.
"Confidence has really helped me become the person I am today," she said. "I think we all have confidence somewhere inside of us. Sometimes you just have to shift your focus to what's important and push away all the outside negativity. I've received some positive feedback from parents, and I'm really excited to grow that platform."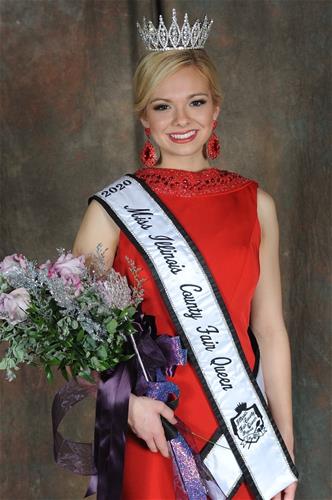 As Kessler expands that platform and shares her message statewide, she'll be simultaneously pursuing her degree from Gies Business. Outside of her parents' alma mater, the University of Evansville, Gies was the only business school to which she applied. She admits, as an only child, she was nervous about moving so far away from home – but one visit to campus changed everything.
"I came to Champaign for a weekend in October to attend the Women in Business Conference and take an official tour," she recalled. "As I was walking across campus, I saw a girl who I was friends with on social media, but I had never met in person. She saw me and gave me a big wave and a smile. It made me feel so good, and it helped me realize this enormous campus can still feel like a small community. That's when I knew Gies was the perfect place for me."
And so far, her Gies experience has delivered everything she had hoped. She was initially drawn to Gies because of its Top 10 ranking among public business schools and top-ranked accounting program. She also saw it as a place where she could be part of something bigger than herself. She recognized that Gies has the environment and the resources to help her forge her own path and discover her own, individual purpose. Now, a little more than one semester in, she's been impressed by so much more.
"Gies is such a unique family. Everyone is kind, driven, and much more collaborative than competitive," she said. "All my professors have been really pleasant and very approachable. It's been a great experience."
After graduation, Kessler plans to move back home to Carmi and use her Gies education to help farmers and small businesses thrive. She may only be queen for one year, but the impact she could have as a business leader helping others learn to be "crowned with confidence," could make a difference for many more years to come.