Jan 9, 2020 2020-01 Accountancy Alumni Business Administration Faculty Finance Student
Elliott to lead Gies' online programs and strategy
W. Brooke Elliott has been named associate dean at Gies College of Business, a role in which she will oversee the strategy and programs in the online space, including the iMBA, iMSA, MOOCs, and the College's new initiatives in lifelong learning and enterprise partnerships. The move, which is effective February 3, comes as Assistant Dean of Online Programs Arshad Saiyed has accepted at new position at Northeastern University.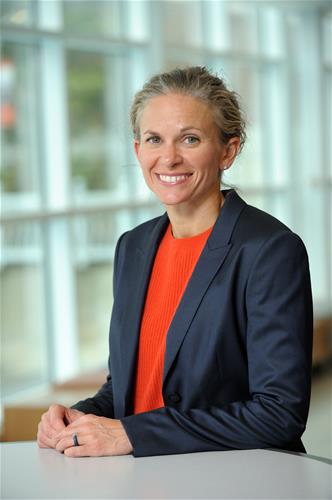 Elliott joined the Gies College of Business faculty in 2003, and since 2017 she has served as head of the College's top-ranked Department of Accountancy. She has been heavily involved with online programs since 2016, when she helped develop and launch the iMSA, the College's fully online master's in accounting. Elliott has also been a leader in shaping strategy and continuous improvement of the student experience in the iMBA and iMSA programs.
"I am extremely grateful to Arshad for being such a champion of our online programs," said Dean Jeffrey R. Brown. "Under his leadership, online programs have delivered quality and growth beyond our expectations. Brooke is a proven leader. She has been an advocate for online programs, and she has been instrumental in helping establish strategic objectives for their continued growth. She exemplifies Gies' student-centric approach to innovation."
Gies' online programs have disrupted the traditional business education model since they were launched in 2016. This spring, more than 3,200 students will be enrolled in the iMBA and iMSA. The programs are revolutionary in their delivery, concentrations, immersions, accessibility, and career-curated content. They combine material in ways that professionals use it in the real world, not in traditional academic silos. And it is all delivered at a price point well below what students will pay at other top-ranked universities.
"I look forward to the opportunity to guide these strong online programs to continued success and to help develop new programs that will enhance the reputation of our College and provide lasting benefit to our students, alumni, and the broader business community," said Elliott. "It has been one of my greatest honors lead our incredible Department of Accountancy, and I know the future is bright for our department."
As part of this transition, Brooke will step down as head of the Department of Accountancy. Associate head Theo Sougiannis will serve as interim department head through the summer of 2021. Sougiannis joined the Department of Accountancy in 1990 and has served in multiple capacities, including interim head in 2011-2012. A search for a permanent department head will be conducted during the 2020-2021 academic year.


About Gies College of Business
For more than 100 years, Gies College of Business has intentionally designed its innovative programs, leading-edge curriculum, and experiential learning opportunities to empower and prepare students to turn big ideas into meaningful actions. Today, Gies faculty prepare more than 7,000 future business leaders, including 3,100 undergraduates, from around the world to put their purpose into practice and provide transformative leadership in a global economy. GiesBusiness.illinois.edu