Dec 4, 2019 2019-12 Alumni Business Administration
Alumna Kelly Loeffler appointed to US Senate
Gies College of Business alumna Kelly Loeffler (BA '92) has been appointed to the US Senate, taking over the Georgia seat vacated by Johnny Isakson, who is stepping down due to health issues. When Loeffler is sworn in, she will become the second female senator in Georgia history. Loeffler will have the opportunity to run in a special election for that seat on November 3, 2020.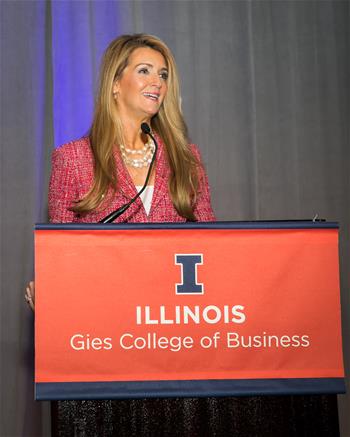 Loeffler is CEO of Bakkt, a regulated, global ecosystem designed to enable custody, markets and use cases for digital assets. Loeffler is also co-owner and co-chairman of the WNBA Atlanta Dream, the first women-owned professional sports team in Georgia. As a result of her own positive experiences gained through athletic participation, she is an advocate of combining education and sports to contribute to the success of young people from the classroom to the workplace.
Loeffer is the 2019 Gies College of Business Alumni Association's Distinguished Alumnus, and was honored with this award at the Gies Business Spring Luncheon in Chicago in April. Loeffler said she was "truly humbled" by the honor and took the opportunity to reflect upon her journey which began more than 30 years ago.
"When I received the acceptance letter to Illinois on Feb. 12, 1988, it extended an invitation to join the university in an enjoyable and challenging pursuit of learning. That's truly what it delivered," Loeffler said. "As a 17-year-old farm kid setting foot on campus, the first in my family to attend a university, I experienced both challenges and enjoyment. I'm so grateful for that experience. It gave me the tools to find success, and learn how to bounce back when I failed."
"During the 1991 recession, I was told by many people it was going to be very hard to find a job," she said. "Thanks to the University of Illinois, I was able to start on a path immediately upon graduation. That 17 year old farm kid had become an educated woman that was able to move to Los Angeles and kick off my career. And I've been able to spend the last two decades working in markets, which was my dream. I'm so proud to be part of the University [of Illinois], and I will rededicate myself to making the university proud of me as I continue in my professional career."
Loeffler is a Board Trustee for the Georgia Research Alliance and member of the boards of Grady Memorial Hospital Corporation, the Atlanta Symphony Orchestra and Skyland Trail. She previously served on the boards of the Red Cross of Metro Atlanta, Central Atlanta Progress, the Atlanta Sports Council, and the Gene Siskel Film Center.