Nov 19, 2019 2019-11 Accountancy Faculty Student
Deloitte Center's first course draws worldwide interest
The University of Illinois-Deloitte Foundation Center for Business Analytics has received overwhelming worldwide interest in its First Course in Foundations of Data Analytics. The course, which was developed by faculty at the University of Illinois' Gies College of Business and released online and free to the public, builds a practical foundation for data analytics by teaching students basic tools and techniques that can scale to large computational systems and massive data sets.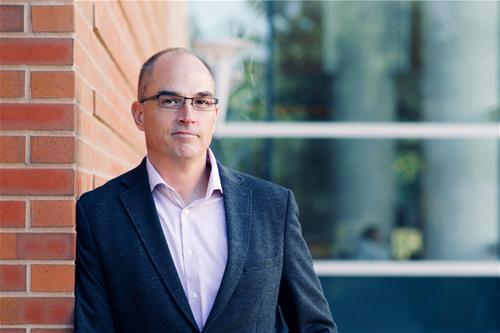 To date, the University of Illinois-Deloitte Foundation Center for Business Analytics has received more than 1,100 unique requests for download. Approximately one-third of those downloads occurred immediately following the announcement, but interest has been steady with new requests for download coming nearly every day since.
Those requests have come primarily from faculty, staff, and students from universities across the United States and the world. Downloads have come from at least 48 US states and 36 countries across six continents. So far, representatives from at least 500 unique institutions have requested content from the Center.
"I'm extremely pleased by the response we've seen for the First Course in Foundations of Data Analytics. We knew there was an incredible appetite for this content, and these results speak for themselves," said Robert Brunner, Director of the University of Illinois-Deloitte Foundation Center for Business Analytics. "These are some of the most in-demand skills in today's business environment. The fact that we're offering these leading-edge courses as free online downloads can provide a big boost for future business leaders from around the world."
The first course can be accessed by visiting the Center's website. Visitors simply fill out a brief registration form, and access to the curriculum will be emailed to the user for free.
In addition to the First Course in Foundations of Data Analytics, the Center is developing three more full courses on data analytics that will be released in the coming months. The Center has also released a set of case studies that are designed to identify and address applications of data analytics in today's business environment.
Gies College of Business and the Deloitte Foundation collaborated in 2016 to create the University of Illinois-Deloitte Foundation Center for Business Analytics. The mission is to take the lead in helping schools incorporate business analytics into their curriculum. Courses and supplemental content are developed by top faculty at Gies College of Business.
"We are proud to help advance business analytics education and tools designed to provide students with the skills they will likely need to become highly trained business leaders," remarked Kathy Shoztic, Executive Director, Deloitte Foundation. "Offering the courses at no cost alleviates an impediment to success and enables anyone to use these valuable resources for educational purposes."
About Deloitte
Deloitte provides industry-leading audit, consulting, tax and advisory services to many of the world's most admired brands, including nearly 90% of the Fortune 500® and more than 5,000 private and middle market companies. Our people work across the industry sectors that drive and shape today's marketplace — delivering measurable and lasting results that help reinforce public trust in our capital markets, inspire clients to see challenges as opportunities to transform and thrive, and help lead the way toward a stronger economy and a healthy society. Deloitte is proud to be part of the largest global professional services network serving our clients in the markets that are most important to them. Our network of member firms spans more than 150 countries and territories. Learn how Deloitte's more than 312,000 people worldwide make an impact that matters at www.deloitte.com.
Deloitte refers to one or more of Deloitte Touche Tohmatsu Limited, a UK private company limited by guarantee ("DTTL"), its network of member firms, and their related entities. DTTL and each of its member firms are legally separate and independent entities. DTTL (also referred to as "Deloitte Global") does not provide services to clients. In the United States, Deloitte refers to one or more of the US member firms of DTTL, their related entities that operate using the "Deloitte" name in the United States and their respective affiliates. Certain services may not be available to attest clients under the rules and regulations of public accounting. Please see www.deloitte.com/about to learn more about our global network of member firms.
About The Deloitte Foundation
The Deloitte Foundation, founded in 1928, is a not-for-profit organization that supports education in the U.S. through a variety of initiatives that help develop the talent of the future and their influencers and promote excellence in teaching, research and curriculum innovation. The Foundation sponsors an array of national programs relevant to a variety of professional services, benefiting middle/high school students, undergraduates, graduate students and educators. Learn more about the Deloitte Foundation.
About Gies College of Business
For more than 100 years, Gies College of Business has intentionally designed its innovative programs, leading-edge curriculum, and experiential learning opportunities to empower and prepare students to turn big ideas into meaningful actions. Today, Gies faculty prepare more than 7,000 future business leaders, including 3,100 undergraduates, from around the world to put their purpose into practice and provide transformative leadership in a global economy. GiesBusiness.illinois.edu