Nov 7, 2019 2019-11 Accountancy Faculty
Chen invested as Lillian and Morrie Moss Distinguished Professor in Accountancy
To acknowledge her expertise and commitment to business education at the University of Illinois, Gies College of Business celebrated the investiture of Clara Chen as the Lillian and Morrie Moss Distinguished Professor in Accountancy on October 25, 2019. Chen is a professor in the Department of Accountancy, where she has served as the PhD program director since 2016. She joined Gies College of Business in 2006.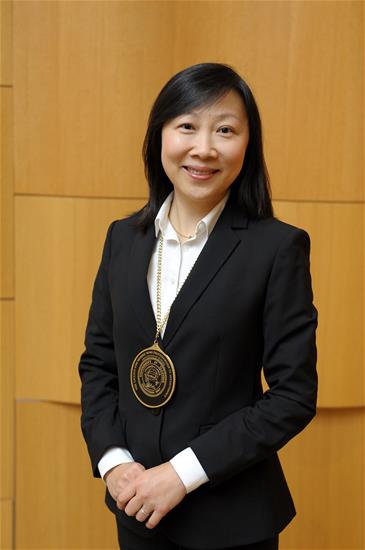 Chen's research focuses on how performance measurement and incentive systems influence employee behavior. Her recent research suggests that organizations with a social mission sometimes offer below-market pay. Employees who choose to work for such organizations identify with that mission and will put in more effort, both individually and as a team. Her paper on this subject with fellow Gies professors Laura Wang and Heather Pesch will appear in the January 2020 issue of The Accounting Review. Chen also co-authored a study that shows firms can design ways to boost employees' identification with its values. This, in turn, helps increase employee effort and loyalty, enhances employee creativity, and improves collaboration.
"Clara understands that, for most employees, it's about more than a paycheck. Her research shows us how well-designed performance measurement and compensation systems can build trust and reciprocity," said Jeffrey R. Brown, the Josef and Margot Lakonishok Professor of Business and Dean of Gies College of Business.
"I'm proud to be part of a College that wants to explore what makes work meaningful to employees and how to design incentive systems to improve employee performance, cooperation, and creativity," said Chen. "I also appreciate the opportunity to not only pursue my own research interest, but also guide others seeking to break new ground with their doctoral dissertations."
Chen has published in top accounting journals and has received numerous awards, including Outstanding Dissertation Award, Best Paper Award, and Notable Contribution to the Management Accounting Literature Award from the American Accounting Association. She serves on the editorial boards of top accounting journals and has been invited as a plenary speaker at major international conferences.
Students often name Chen one of the best professors on campus. She has taught an undergraduate-level course on decision-making for accounting, a graduate-level course on data analytics for management accounting, and a PhD-level course on introduction to accounting research.
Chen earned a bachelor's degree in English from Peking University in 1997, a master's in accounting from the University of Southern California in 2000, and a PhD in accounting from the University of Southern California in 2006.