Oct 31, 2019 2019-11 Business Administration Student
Anheuser-Busch joins The Hoeft Technology & Management Program as Corporate Affiliate
The Hoeft Technology & Management Program has announced that Anheuser-Busch, one of the world's largest beverage companies, has become a corporate affiliate of the program.
The Hoeft Technology & Management Program is a joint university minor within Gies College of Business and The Grainger College of Engineering. Bridging the gap between traditional engineering and business education, the program leads to a university minor in technology and management.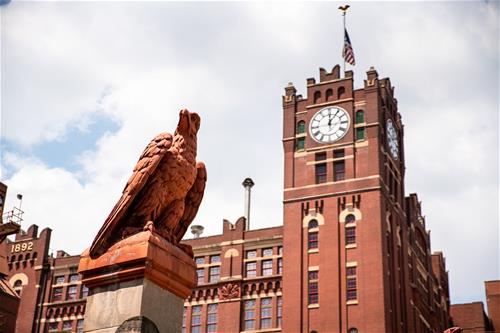 "The rise of technology and evolving business needs have been transforming the way organizations operate," said Chris Delaney, Sr. Director Trade Marketing at Anheuser-Busch. "As a company, we recognize the importance of helping develop future leaders who have a strong understanding of how business and technology interact. We are delighted that we will be able to assist in developing these leaders and paving the way for a strong future for businesses throughout our nation."
Anheuser-Busch joins companies such as Abbott, Boeing, BP, Caterpillar, John Deere, Motorola Solutions, and Synchrony as corporate affiliates. Affiliates provide strategic advice and guidance regarding relevance of the curriculum, participate in extra-curricular activities, sponsor capstone projects, and provide important financial support to the Program.
"We are delighted to have Anheuser-Busch back again as an affiliate to our program," said John Quarton, director of the T&M Program. "We strive to bring the experience and knowledge of a wide range of businesses to the students in our program. Anheuser-Busch will be able to provide perspectives on the intersection of business and technology that is vastly different from many of our other affiliate companies."
About Anheuser-Busch
For more than 165 years, Anheuser-Busch has been woven into the cultural fabric of the United States, carrying on a legacy of brewing great-tasting, high-quality beers that have satisfied beer drinkers for generations. Today, we own and operate 23 breweries, 14 distributorships, and 23 agricultural and packaging facilities, and have more than 18,000 colleagues across the United States. We are home to several of America's most recognizable beer brands, including Budweiser, Bud Light, Michelob ULTRA, and Stella Artois, as well as a number of regional brands that provide beer drinkers with a choice of the best-tasting craft beers in the industry. From responsible drinking programs and emergency drinking water donations to industry-leading sustainability efforts, we are guided by our unwavering commitment to supporting the communities we call home. For more information, visit www.anheuser-busch.com or follow Anheuser-Busch on LinkedIn, Twitter, Facebook and Instagram.
About Gies College of Business at Illinois
Gies College of Business provides a world-class educational experience for the next generation of business leaders. For more than 100 years, the College has delivered on the promise of innovation in business education, with a commitment to cutting-edge curriculum design and delivery, exceptional experiential learning opportunities, and unparalleled academic excellence. Today our faculty prepare more than 5,100 students, including 3,100 undergraduates, to be at the forefront of innovation and leadership in the global economy. GiesBusiness.illinois.edu
About The Grainger College of Engineering at Illinois
As one of the world's top ranked engineering programs, students, faculty, and alumni of The Grainger College of Engineering set the standard for excellence. We drive the economy, reimagine engineering education, and bring revolutionary ideas to the world. The College of Engineering is home to more than 10,000 students. We are one of the Top 5 colleges in the country in terms of research expenditures, with nearly $240 million in research conducted every year. More than 80,000 living alumni have founded or led companies like YouTube, Yelp, Bloom Energy, C3 IoT, Grainger Industrial Supply, Tesla Motors, PayPal, and BP. grainger.illinois.edu