Oct 30, 2019 2019-10 Access Alumni Business Administration Giving Stories
Desai giving back to the College that helped him get ahead
"I am super appreciative of the opportunities I had at Illinois."
Double major doubles down on giving.
These days, it's not uncommon for someone to pursue a second degree at Illinois while earning their MBA, but when Chirantan "CJ" Desai (MBA and MS Computer Science '95) did it nearly 25 years ago it wasn't so typical. Then again, nothing about his career path was.
CJ Desai arrived on the University of Illinois campus in 1993 with an ambitious plan — to earn dual master's degrees in computer science and business in two years. There was only one problem. Both programs were expensive. As Desai began looking for a campus job, he bumped into Dr. Paul Handler, a physics professor in search of a research assistant.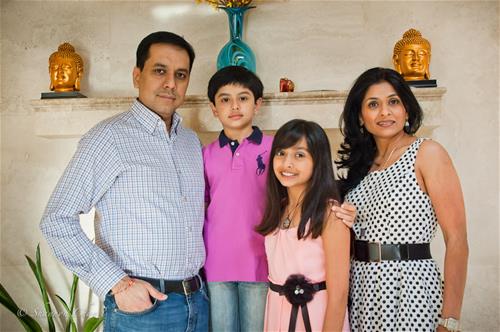 "He was looking for a graduate student to help with enhancing a very sophisticated long-range climate forecasting model that he had developed," explained Desai. Forecasts derived from his model were already being used by Fortune 500 firms ranging from consumer products to investment banks, but he needed someone with a specific set of skills to help refine it. Desai got the job, as well as a hefty research scholarship. He was able pay for his education at two different colleges thanks to the financial support from a third.
The perfect start.
"Dr. Handler was very astute and provided guidance on what kind of internships I should pursue, including my first job post-graduation," says Desai. That turned out to be a job with Oracle, providing the perfect start to what has been a successful career with some of the biggest names in Silicon Valley, including Oracle, Symantec, and ServiceNow.
Currently, Desai is chief product officer for ServiceNow, a successful cloud computing company that helps businesses, governments, and universities manage their digital workflows. In 2012, the company went public with a $120 million IPO, and six years later it was named the world's most innovative company by Forbes. Desai feels fortunate to be part of this journey that might never have gotten started without that first scholarship and the support he received at Illinois.
"I am super appreciative that I got an opportunity to pursue two master degrees at the same time. That was very unique about Illinois at that point in time," said Desai, who is grateful for the program's flexibility and the help he received from people like Dr. Paul Magelli. The longtime administrator, professor, and mentor at Illinois allowed Desai to take extra courses to expedite his first job at Oracle. "Dr. Magelli was also very helpful in making sure that I finished both of my curriculums and got both of my degrees, and that put me on the right career path."
Giving back. One school at a time.
In 2015, the successful Silicon Valley executive began giving back to the two colleges that enabled his success, creating the Chirantan J. (CJ) Desai and Hina Desai Computer Science Fellowship at Illinois Computer Science. Designed specifically to support women who are underrepresented in the computer field, the fellowship has already funded the educational aspirations of two worthy candidates. But it was one woman in particular who inspired his recent gift to Gies College of Business.
Desai's oldest daughter began her college career this fall. Fortunately for the nervous father, the California native stayed close to home to attend a university in the San Francisco Bay Area. Watching his daughter and her friends head off to college, though, took him back to those first few weeks at Illinois and the gift that made such an impact on him. "If I can make life easier for somebody else who's starting college at Gies, that would be great." So, together with his wife, he created the Chirantan J. and Hina Desai Undergraduate Scholarship at Gies.
"Dean Brown — who is a wonderful human being — and the entire Gies College of Business administration are doing great things," said Desai, adding that his time at Gies was invaluable. "It really helped me see the world picture. How businesses make decisions, how to do capital investment — all of that came from Gies College of Business."
Making a difference. Here and now.
Many philanthropic gifts make a difference in the future, but Desai says he likes giving in a way that makes a difference for students here and now. "It's meaningful immediately, and it takes away a little financial stress," he explained. "My education became free because the physics department gave me that scholarship, so if that could help me as a struggling grad student, I want to do the same."
For Desai, there's also a more personal reason for supporting higher education. "Both of my maternal and paternal grandparents were school teachers, as well as my mom, who's retired now," said Desai. "As a family, we value education a lot."
Even after funding two scholarships in two different colleges at the University of Illinois, this alumnus remains humble about his contributions, saying that he simply wants to give back to the school that helped him move ahead. "I'm just doing my very small part to help whoever I can."