Sep 24, 2019 2019-09 Business Administration Student
Supply Chain Networking goes global at Gies
The Supply Chain Management Program at Gies College of Business is offering students unprecedented access to some of the nation's most successful companies by disrupting traditional corporate engagement and networking strategies. This fall, the supply chain program hosted its first ever Virtual Networking with SCM Affiliates event, where students were able to have face-to-face interaction with corporate affiliates from all over the nation.
"This was the first time we've held this event, and it was incredibly successful," said Nehemiah Scott, teaching assistant professor and director of the Supply Chain Management Program at Gies. "We were able to uniquely and conveniently connect our incredibly successful and global SCM affiliates with our students here in Champaign and abroad. Within about an hour and a half of networking time, around 77 unique conversations had taken place."
Three of the program's six corporate affiliates – Shell, Echo Global Logistics, and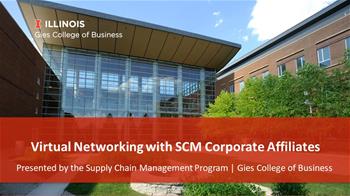 HARTING USA – participated in this first virtual networking event, which expands access and engagement for Gies supply chain management students. By leveraging technology, and with the help of Gies eLearning and Digital Media, 17 students were able to connect with the affiliates via Zoom. Each student was able to spend about eight minutes having one-on-one conversations with each affiliate. It was an important first step toward landing an internship, which is required of all supply chain majors, or ultimately securing a full-time job.
One of the students who participated is particularly grateful for the virtual networking. Gina Miklasz, a junior majoring in supply chain management, is currently studying abroad at Bocconi University in Milan, Italy.
"I signed up for the event within 10 minutes of receiving the invitation," recalled Miklasz. "I knew it would be a great opportunity to network since I'd be missing the career fair on campus. I had great one-on-one conversations. It really clicked with me that not only is the virtual networking event great for the companies, but it's also good for students who can't attend in person."
Miklasz originally came to the University of Illinois as an industrial engineering major with a concentration in supply chain. She soon realized she was much more interested in the management aspect rather than the engineering side. She transferred to Gies College of Business to join the Supply Chain Management Program, and she hopes to pursue a career in the food and beverage industry.
"It's so great to be able to connect with these companies. Some of them asked me a lot of questions about myself, so they could get to know me. Others allowed me to ask more questions about the industry and possible career paths. It was such a valuable experience."
This is the second year for Supply Chain Management Corporate Affiliates Program (CAP), which is part of the Supply Chain Management Program at large and is a consortium of major corporations who serve as an external advisory panel, participate in extracurricular activities, and sponsor capstone projects. SCM corporate affiliates include Shell, Echo Global Logistics, HARTING USA, ALDI, Caterpillar, and OSI Group.
"Our program has a 100% placement rate and is ranked #16 in the nation. We believe that building strong relationships with these companies and providing them unique engagement opportunities with the supply chain students are key components of the strength of our program" said Scott. "We saw extremely positive results from this first virtual networking event, and I'm looking forward to building on this as we expand moving forward."