Sep 9, 2019 2019-09 Accountancy Business Administration Finance Student
Gies ranked #9 public undergraduate business program
Gies College of Business is once again ranked as a Top 10 public undergraduate business program, according to the latest rankings released by US News & World Report. Gies Business was ranked #9 among public undergraduate business programs and #19 overall nationally. The publication surveys deans and senior faculty members at each undergraduate business program accredited by the Association to Advance Collegiate Schools of Business (AACSB).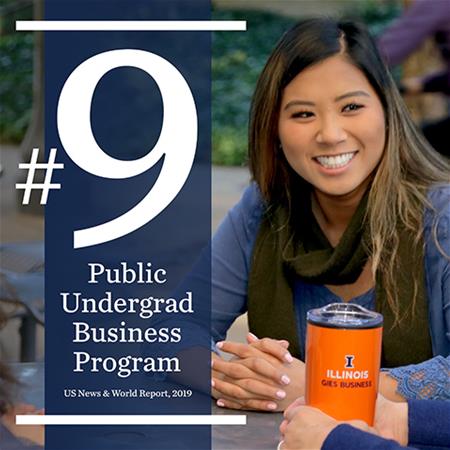 "I am beyond proud of the great work our students, faculty, and staff put in every day, and it's gratifying that our peers are recognizing those efforts," said Dean Jeffrey R. Brown. "We are one of the best business schools in the nation, and additionally we offer an experience that can never be quantified in the rankings. We believe in delivering more than just an education. At Gies, we provide an environment where our students can discover their own, individual path to purpose, and we're breaking down financial barriers to ensure all high-potential students have access to our great programs."
In addition to the outstanding national ranking, the undergraduate accounting program was once again ranked #2 in the nation. The undergraduate finance program is #13 overall, up from #31 last year.
The insurance/risk management program also rose in the rankings, checking in at #9, up from #11 last year. Gies College of Business is home to the AXIS Risk Management Academy, which provides students from across campus with professional development resources and enhanced educational experiences to support their interest in risk management. Faculty and industry benefit from the Office of Risk Management and Insurance Research, which designs research on critical issues facing the industry and engages students seeking careers in risk management and insurance.
Gies in the rankings:
#9 public undergraduate business program
#19 overall undergraduate business program
#2 accounting
#9 insurance/risk management
#13 finance
#14 marketing
#15 management information systems
#15 production/operations management
#17 supply chain management/logistics
#18 management
The full rankings and methodology can be found here.