Sep 3, 2019 2019-09 Accountancy Faculty
Persson bringing accounting history into today's curriculum
Martin Persson has been fascinated with the history of accounting since his days as an undergraduate student. Now the new assistant professor at Gies College of Business gets to teach and research at one of the most historic accounting programs in the world.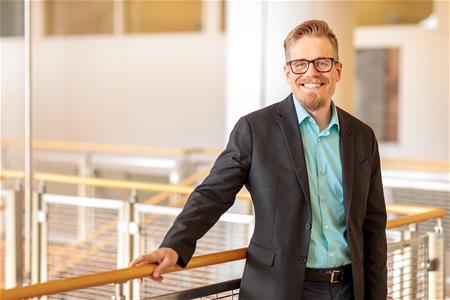 "My path has been so unorthodox, but Gies Business was so open-minded to the idea. Illinois is the largest and oldest accounting program in the country. Why not add a historian?" said Persson.
While his decision to come to Gies Business may have been pretty clear, his path to Illinois hasn't been quite so linear. Persson is a Swede, who grew up in Stockholm. He earned his bachelor's in accounting at Jacksonville University in Florida, then a master's at the London School of Economics and Political Science, and finally a PhD in accounting at Royal Holloway, University of London. He spent the past five years in Canada, teaching at the University of Western Ontario's Ivey Business School.
Through it all, Persson has continued to forge his own path, which eventually led him to an unruly stack of papers at the University of Illinois at Urbana-Champaign in 2014. There, he discovered an A.C. Littleton manuscript that the pre-eminent accounting scholar – and one of the earliest professors of accounting at the University of Illinois – had intended to publish before he died. Martin secured the rights from the family and in 2016 went on to edit and publish A.C. Littleton's Final Thoughts on Accounting: A Collection of Unpublished Essays.
"There is plenty of historical scholarship in the fields of business, economics, and management but less in accounting," said Persson, whose wife Anh will also teach accounting at Gies. "Accounting history really isn't taught in many places."
Persson is honored to be at a university that's so clearly connected to the legacy of accounting. While at Illinois, A.C. Littleton, the subject of Persson's award-winning book, founded the first doctoral program in accounting in North America with his colleague Hiram T. Scovill. Their doctoral graduates eventually populated newly established accounting departments throughout the United States. One of these graduates, Vernon Zimmerman, became a pioneer in international accounting research, and founded the center that is now named in his honor, the VK Zimmerman Center for International Education and Research in Accountancy.
In addition to teaching advanced financial reporting, Persson's goal is to continue to use history to inform students and industry leaders today. He says it's important for us to look at how a term like "fair value," for example, has evolved or why annual reports have grown from a one-page report to a tome.
"Much accounting information is now based on expectations about the future, whereas it used to be restricted to past events. This is not necessarily a problem, but it has fundamentally changed the meaning and veracity of financial statements. And what about the complexity and length of these statements? We have gone from one- to two-page reports to about 150 pages," he said. "Drawing together insights of where accountancy has been and where we're going is important. Historical consciousness matters."