Aug 30, 2019 2019-08 Accountancy Faculty Student
Public Accounting Report ranks Gies Business #2 in nation
The Department of Accountancy at Gies College of Business is once again ranked among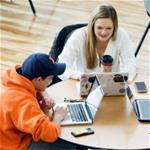 the best in the nation, checking in at #2 in the latest Public Accounting Report (PAR) survey. The PAR ranks US academic accounting programs based on the opinions of the nation's accounting professors.

In the latest survey just released, the undergraduate accounting program at the University of Illinois ranks #2 in the nation. Illinois' master's and doctoral accounting programs are both ranked #3 in the nation. Accounting department chairs and deans voted Illinois' master's programs #1 more often than any other school (tied with the University of Texas).

Gies College of Business is proud to continue its tradition of excellence in accounting. 98% of accounting graduates earn successful placement. Starting salaries for Gies undergraduate accounting students are 34 percent higher than the national average, and Master of Accounting Science graduates boast an 80 percent first-time CPA pass rate, which is among the best in the nation.