Apr 24, 2018 2018-04 Access Giving Stories
Paying it Forward
"There's nothing like paying it forward"
Alumnus and wife fund Gies Business Scholarships
Alan Feldman knows what it's like to struggle. So, he is doing something to ease the struggle of Gies College of Business students.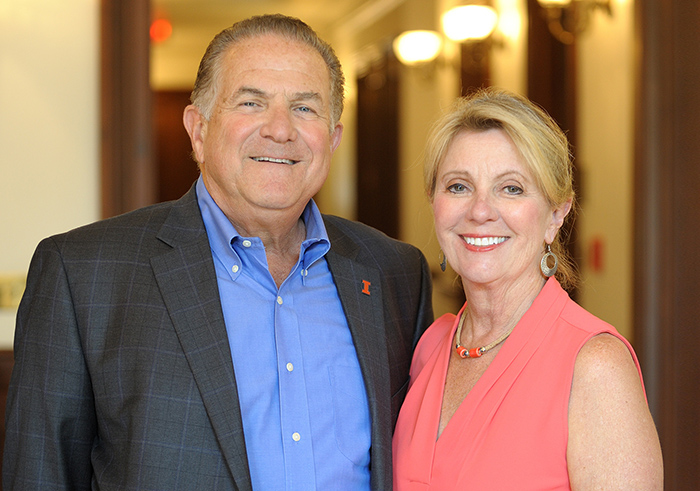 Feldman grew up in Highland Park, Illinois, where his father was, as Feldman puts it, "a serial entrepreneur who tried many things and not many clicked. But he provided for us and instilled in us a good work ethic. It was a bit of a struggle at times, but it taught me the value of working hard, trying to be successful, taking care of my family."
Feldman did work hard. He earned a BS in marketing and an MBA, both from the University of Illinois. He was successful. He excelled in senior management positions for over three decades in the consumer goods industry, working as Chairman president and CEO of Midas International president and COO of McDonald's America's and CFO of Pizza Hut. Today he serves on three public company boards. And he took care of his family. He and his wife, Deborah, raised three daughters who are all succeeding in their own careers.
Opening the door for others to succeed
Now he and Deb want to help others succeed, too. To facilitate that process, they have established the Alan and Deborah Feldman Scholarship Fund for Illinois students in the Gies College of Business. At least 25 percent of the amount awarded annually will be earmarked for students with financial need.
"My experiences here changed my life," Feldman says, "and there are a lot of kids in future generations who could benefit from that who won't get the chance because their financial circumstances doesn't allow them to come here. We wanted them to get a chance to change their lives."
"We believe in education," says Deb Feldman, who earned an MBA at Loyola University and was in management for the American Hospital Association. "We could have made other choices, but we believe education is the tool to a better life. We want to give that opportunity to students."
The Feldmans felt driven to create the scholarship fund when they learned that eight out of 10 students who leave the University of Illinois do so for financial reasons.
"This is an opportunity to hopefully reduce that reason for student departures a little bit," Deb Feldman says.
Providing access to a world-class education
"We're thrilled to receive this generous gift from Alan and Deb Feldman," says Dean Jeffrey R. Brown. "We want to partner the best young minds with faculty and business leaders to explore, innovate, and blaze new trails in industry. With limited state-supported financial aid packages, it's critical that the College has the resources to invest scholarship dollars in the best students, regardless of their family finances."
The Feldman's fund, Brown adds, will aid the College in one of its major priorities, access.
"As the cost of education continues to rise, this investment will make our renowned curriculum more accessible to the most qualified students, no matter their financial constraints," he says. "Students will have prompt access to critical dollars that open the doors to a world-class education and training in their field of study."
Strong connections to the College and the UI
Feldman has long been involved with his alma mater. He was part of the steering committee for the Brilliant Futures campaign, he has judged case contests for students, and he has given talks and sponsored events in Chicago to try to connect people to the university that helped him have a successful career.
Feldman is also active with the University of Illinois beyond his affiliation with the Gies College of Business. He is currently chair of the University of Illinois Foundation, the official fundraising and private gift-receiving agency for the University of Illinois, an organization he strongly believes in.
Paying it forward
"Philanthropy has never been more important to the University of Illinois," he says. "For the university to remain among the elite public institutions in this nation, we need gifts that can help us remain competitive, make an impact, and continue to be known as the innovative institution that we are."
Feldman has had a lot of people in his life help him succeed. His father was not financially rich but showed Feldman the meaning of hard work. His high school swimming coach taught him the value of never quitting; the coach's pet expression was "You Gotta Wanna." Feldman says that has been his mentality for life.
At Illinois, a marketing professor, Rick Winter, took Feldman under his wing and helped him understand what he could accomplish.
"I've been lucky in college and in business," Feldman says. "People would reach down and say 'Come on, I want to help you.' This is a bit of our way of paying some of that back.
"There's nothing like paying it forward. If you've had the opportunity to better your life, and you can do something to help the next generation, it feels good. It's the right thing to do. We've been blessed."