Choi's $100K Bitcoin gift to fund blockchain education at Gies
Gies College of Business alumnus – and successful professional poker player – Stanley Choi has made a living being comfortable with ambiguity. So it should come as no surprise that he has wholeheartedly embraced what some believe is the next great frontier: cryptocurrency and blockchain.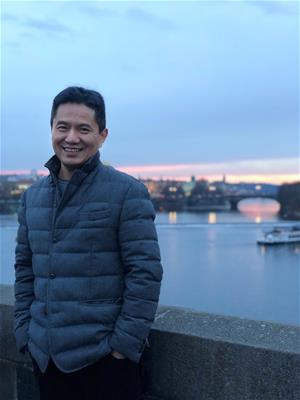 Looking to invest in this disruptive innovation, Choi has donated $100K in Bitcoin to integrate blockchain education into the academic and extracurricular experience at Gies. It is the largest cryptocurrency gift in the history of the University of Illinois Urbana-Champaign, and it's believed to be one of the largest ever given to a business school.
"Blockchain is going to change the way people do business," said Choi, founder of Head & Shoulders Financial Group, a brokerage and investment company based in Hong Kong. "I think it's very similar to the way the internet changed business. Thirty years ago, people had no idea how big the internet would be. They were skeptical and scared. There's no doubt today how the internet has changed the world, and I see potential for the same magnitude with blockchain."
Chief Disruption Officer Robert Brunner is leading the blockchain effort at Gies. Under his direction, student projects through the Disruption Lab and Illinois Business Consulting – the largest professionally managed, student-run consulting organization in the US – are exploring blockchain technologies, proposing application simulators, and developing these simulators for use in Gies classrooms and for extracurricular learning opportunities.
Thanks to Choi's gift, Gies has already built its own blockchain with several applications built on top of it. Gies is exploring additional blockchain applications that integrate directly into College operations and is also planning events for the broader community to introduce blockchain technology and its application in different domains. Brunner agrees that virtually every aspect of business has the potential to be transformed by blockchain technology.
"From financial audits to supply chain to payment systems, any future business leader needs to understand how this technology will influence their companies and industries," he said. "The Disruption Lab at Gies is especially well-positioned to build a leading initiative in this space thanks to our ability to leverage talent from one of the world's leading engineering colleges and one of the world's leading business schools."
Choi has immersed himself in the world of cryptocurrency and blockchain, and he believes it is imperative that today's students develop a fluency in those areas. Choi was an early investor in Chiliz, a cryptocurrency token that is used by sports fans – predominately in the NBA and European soccer – to acquire Fan Tokens. He understands the angst and skepticism many feel with daily news about fluctuating cryptocurrency prices, but he predicts the value will begin to stabilize as more people buy in and more mainstream uses are realized.
"Tokens will appreciate as blockchain projects continue to provide more value to customers," Choi said. "Ninety percent of the focus right now is on crypto price; people aren't focusing enough on the project beneath the token. Blockchain is going to solve a lot of fundamental transactional problems we're facing today."
As Choi reflected on his time at the University of Illinois, he was eager to give back. He graduated from Gies' one-year Master of Science in Finance (MSF) program in 1996 and says the College has always held a special place in his heart. So when Brunner and Dean Jeff Brown presented Choi with an overview of the blockchain initiatives at Gies – and the opportunities for advancement – Choi immediately knew he wanted to get involved. And his innovative gift – fittingly mirroring the innovation happening at Gies – was a perfect match.
"It's not about the length of time you spend at a certain place," Choi said, thinking back to his short time as an MSF student at Gies College of Business. "It's about the impact that place makes on you. I'm so appreciative and grateful of those who made a difference in my life. The University of Illinois didn't care where I was from. They treated me as an equal. I felt very warm and welcome."